A Place Called Simplicity


Never has your life been so changed until you meet Linny. God has used her to inspire so many about the orphan. She is a mom of many, and an advocate of the orphan, an encourager to women. Be sure to read her story about Ruby Grace and the many memorial box monday posts her and her readers post showing the Lord move.
Are All These Kids Yours?


Dawn is indeed a mom of many. She has adopted overseas and domestically and is in the process of adopting a special needs child domestically. She blogs about fun times with her big family.
Baby Steps


The all too familiar story of failed domestic private adoptions breaks my heart. However, Laurie has pushed through insane challenges and I don't know how she does it every day. She has my heart and as I follow her journey pray that she finds her baby.
Carrington's Courage


The story of Carrington will both astonish you and break your heart. Try to read this story without getting an itch to adopt a child like her.
Em On A Mission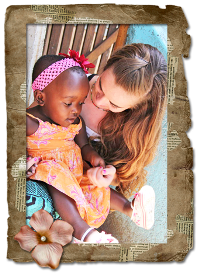 This 17 year old will astound you with her mature faith and passion for lives. I adore her and her passion for the fatherless. Follow her journey to care for those in need in Uganda and across Africa.
Heirs with Christ


Rachel is an adoptive mama who has brought home a little one from Uganda in 2011. Her sweet reminders of the Lord's love is always an encouragement to me.
Home with Lucy Lane & Wes
Kristi and her sweet Lucy Lane swept the adoption world away with her gotcha day video of Lucy Lane. Come follow along on her family's journey now home with two little ones from Ethiopia.
 Hope at Home


Hope at Home is written by Dr Susan Hillis and Beth Templeton, adoptive mamas and advocates of the orphan. There are posts written by them and their children about living as an adoptive family. The blog is written from an honest, sometimes brutal view of the real life as an adoptive family and the many hurts, blessings, and challenges.
It's Almost Naptime


Missy is a mom on the journey of an Ethiopian adoption. Her heartfelt honest and often blunt posts about parenting are both encouraging and truthful. Follow along and get ready to laugh and shout in agreement.
Momentum
Kat has long captured my heart with her open faithful posts and her friendly servant's heart. She has encouraged me, in following her journey, to buck up when times get tough and fight for justice and keep my eyes on the Lord.
My Ugly Couch
Colleen's words first captured me at a table at a dinner at an adoptive moms retreat as she made me laugh with her humorous way. I immediately grabbed a friend to go chat with her because she could really relate to her journey. You can get a taste of great recipes, beautiful photos and a fun family on her blog.
The Farmer's Wife
Lara is an inspiration to adoptive moms all over. Her passion for the Orphan and her humor in her stories is a great read and a good encouragement in your day.
The Fruitful Family

 
Joy and her family are an inspiration to orphan lovers everywhere. In addition to being one of the women behind SixtyFeet and The Cupcake Kids she is currently on her own journey to bring a little one home.
These Little Lives
This adoptive mama will bring you on a spiritual journey with her thoughts and her family. Be sure to read about her journey to sweet Rissa!
This Crazy Roller Coaster Called International Adoption


Jen has sure had an adventure bringing her boys home from Ethiopia. Follow along and try not to spit coffee on your computer as she brings humor to the little things.
Up The Hill
This orphan advocate will bring situations to you that will both break your heart and inspire you to do something.